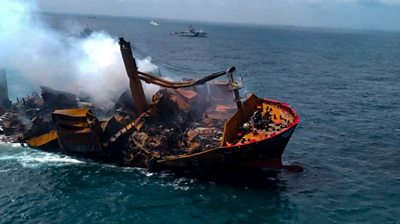 A sinking cargo ship stuffed with tonnes of chemical substances and plastics is threatening marine life off the coast of Sri Lanka.
Efforts to tow the Singapore-registered X-Press Pearl into deeper water to restrict its environmental impression failed, officers stated.
A whole lot of tonnes of oil may leak into the ocean, with some warning it will "destroy the entire backside of the ocean".
Learn extra: Oil spill fears as ship sinks off Sri Lanka